Fort Providence – We are very excited to announce that Emilia Cabrera Mallette will be the head coach for Team NT Table Tennis at the 2023 Wood Buffalo Arctic Winter Games.
Emilia started her career very early when she was only 5 years old. From there she participated in many national and international competitions as a Team Quebec player before becoming a Canadian National Team player and representing Team Canada in international events.
Since then Emilia turned coach and is now working with players in Quebec, as well as she just assisted the Table Tennis Canada Gender Equity training camp earlier this Summer in Ottawa.
Here are some memorable moments in her career.
"The US OPEN in Las Vegas (2018) because of how impressive everything was in this city such as the buildings, the cultural attractions, the gym where there was more than 200 tables, etc. Also, I had the opportunity to watch inspiring players play in real life such as Eugene Wang (Canada).
The most memorable moment of my career happened in 2018 during a Canada open (international) in Toronto. Me and my teammate Kelly Zhao were playing for the third place in the team category girls 15 and under. I had to win my next match in order for us to reach the third place and it would have been my first international medal. Therefore, I was losing 6-2 (2-0) against a talented USA player. To be honest, I had lost all hope. But, Kelly and my coach (Maxime Surprenant) didn't give up on me and I was able to win this match! Me teammate and I were so happy and we couldn't believe what just happened. Here are the pictures that were taken when I won the match."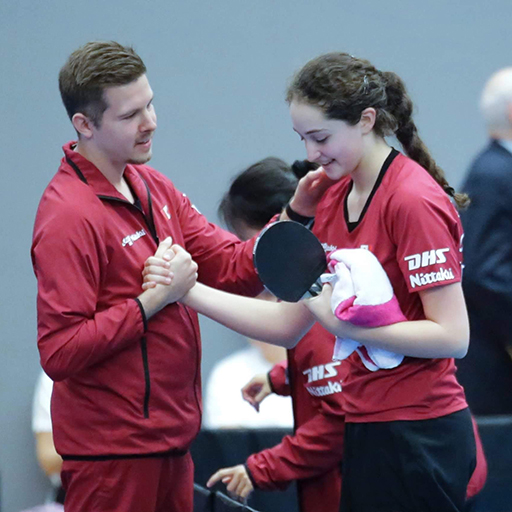 Emilia will be working with Team NT Table Tennis in preparation for the games the end of January. Including our partnership with the Richmond Olympic Oval, Skating Success and our upcoming Gender Equity and Every Child Matters campaign. In January 2023 she will also support the Hockey & Table Tennis program before travelling with the team to Fort McMurray to compete at the Arctic Winter Games.
"I want to create great memories and meet new players. It will be a very enriched experience for me a coach but also as a person. My goal is to share as best as I can the knowledge that I have acquired in my career. However, I'm sure that I will learn a lot from the people that I'll meet there. I can't wait to meet the NT table tennis community !!!!"
We are looking forward seeing our athletes work with Emilia in preparation for the Arctic Winter Games and leaving a legacy behind for future generation. Welcome, bienvenue Emilia!!!