As coaches, mentors and role models to others, the language we use and the questions we ask can make or break the quality experiences of the people in our programs.  This session will explore concepts and tools that will help you to speak through an inclusive lens and help you to create quality experiences and inclusive programs for all who participate.  
March 3rd at 5-7pm – Webinar via ZOOM
Zoom information:
https://us02web.zoom.us/j/86523804145?pwd=WWRtbE1ZQWphdGZJNE1EZWJRTE0xQT09Meeting ID: 865 2380 4145Passcode: 704080
February 17th at 12pm – Mini session live on Facebook
ZOOM information: 
https://us02web.zoom.us/j/89418241036?pwd=Y2ZiMEwxZHoxK0wya25obmlBcHJpdz09Meeting ID: 894 1824 1036Passcode: 487324
Facebook live stream: https://www.facebook.com/tabletennisnorth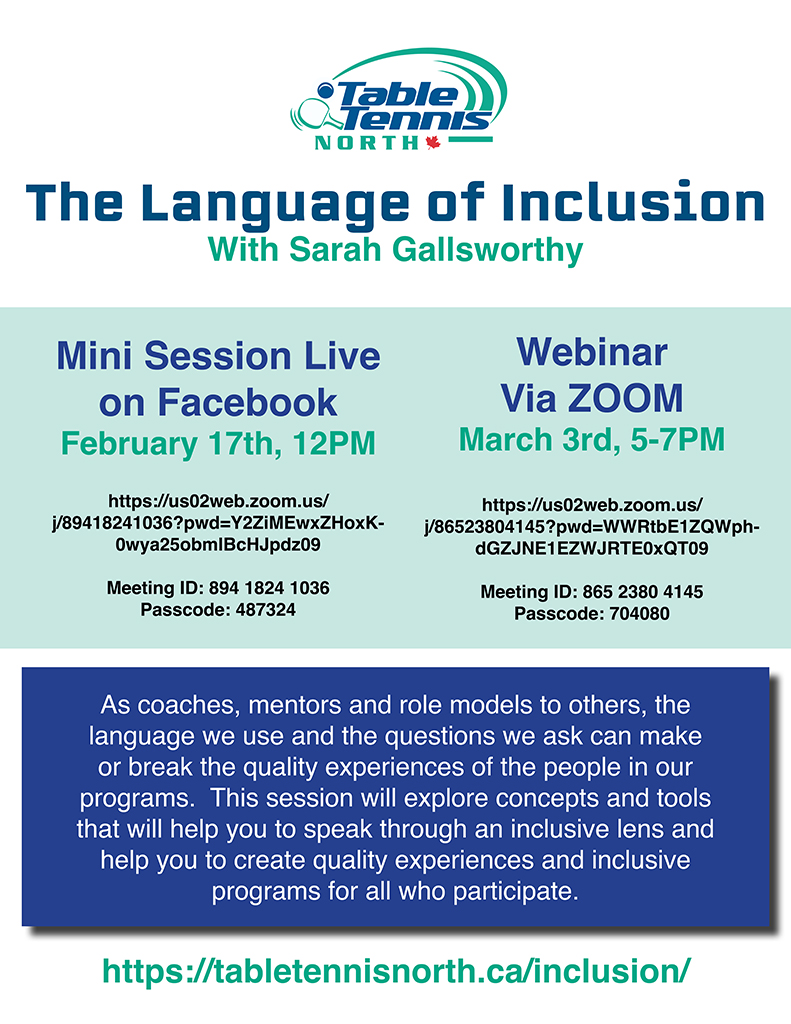 About Sarah
Sarah Gallsworthy (She/Her/Hers) is on a journey to share the power of movement, health and quality programming. Growing up in British Colombia she learned early about the value of active, healthy living. As part of the LGBTQI2S community, Sarah also understands that barriers to programs and spaces can limit potential. She is an advocate for awareness and inclusion to help others find a sense of belonging and acceptance. Sarah left the healthcare sector with a passion for teaching others. She is currently a professor in both the Fitness Health Promotion and Recreation Programs at Seneca College, in Ontario, a learning facilitator for the Coaching Association of Ontario, a Physical Literacy master learning facilitator with Sport for Life, a collaborator with INclusion INcorporated and a master trainer with High Five. As a sport and recreation consultant, Sarah has been a part of many Provincial, Territorial and National initiatives that support physical literacy, child development and quality engagement. When not working, you can likely find Sarah keeping active at her local park in her most important role of mum to young daughter Ayla, whilst tossing a frisbee ( that will never be returned) to Great Dane, Hamilton.